Watch back: Euronews' Anelise Borges answers your questions on Venezuela
Comments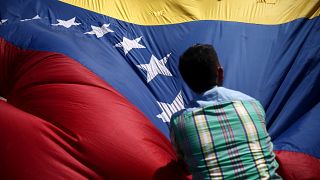 Duelling presidents, hyperinflation and an escalating health crisis has led to a 4,000% increase in the number of Venezuelans seeking refugee status worldwide since 2014.
Hundreds of thousands of people have fled to neighbouring countries and are continuing to do so.
Euronews correspondent Anelise Borges was in the Venezuelan capital Caracas. She answered your questions about the embattled South American nation live on Facebook.
She said food is available in the shops, at least in the capital, but that people can't afford to buy it.
"Food is all people talk about," said Anelise. "Their lives revolve around trying to get their hands on something to eat. Their conversations are 'did you manage to buy anything today? Will you trade some with me?'"
Is support for Nicolas Maduro falling away?
Nicolas Maduro insists he is still the one and only president of Venezuela and he still has significant support. Traditionally poorer areas backed him and his predecessor Hugo Chavez, but Anelise said that, from what she has found, things are changing.
"The situation in poor areas really transformed how the government is perceived. Poor districts really were Chavez's strongholds. Because of the social policies implemented by Hugo Chavez and Nicolas Maduro, now, even there, people are quite angry and tired.
"They talk about how disappointed they are with the current situation. I spent time in a family's house — we were invited to spend the night with a family and the owner of the house actually smiled at me when I went to wash my hands in her sink because she didn't have any running water."
A health catastrophe
Anelise also talked about the health crisis in the country and paints a very bleak picture:
"According to one non-profit organisation in Venezuela over half of the country's doctors have left the country. 70% of surgical theatres are now closed. Medicine is really hard to find. Hospitals don't have antibiotics, they don't even have simple things likes gloves or gauze or syringes so patients and families have to go to look for these very basic items themselves and of course it costs a lot of money."
A country divided
Anelise Borges said she spoke to many people from different walks of life with differing political views and found little unity:
"Many of them still believe that Nicolas Maduro can bring the country back to its past, to its former glory days of the socialist movement when the government could take care of its people... Others think that it's time for a change, that the country really needs a big shake-up and they are placing all their bets on, of course, the interim president Juan Guaido."
You can see all of Anelise's Facebook live Q & A in the video above.