Teen Shamima Begum to have her UK citizenship revoked after joining IS
Comments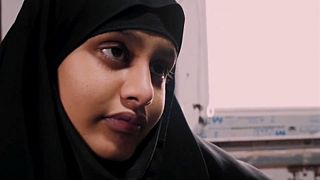 British authorities have decided to revoke the UK citizenship of 19-year-old Shamima Begum, the teenage girl who abandoned Britain in 2015 so she could join the so-called Islamic State (ISIS).
Begum's family was notified about the decision in a letter which they received from the Home Office.
"The family is very disappointed by the intention of the Home Office to issue a decision depriving Shamima her citizenship," the Begum family's lawyer said on Twitter. "We are examining the legal paths so that we can contest this decision," they added.
In 2015, Shamima Begum and Amira Abase, both of them 15 at the time they fled, left the UK for Syria along with 16-year-old Kadiza Sultana, who was later reported killed in an airstrike.
After arriving in Raqqa, Begum married a 27-year-old Dutchman who had converted to Islam. The couple left Bagouz — the last remaining enclave of extremists in eastern Syria — two weeks ago.
While her husband surrendered to a group of Syrian fighters as they left, she is now in a camp in northern Syria.
Begum's lawyer announced on Sunday that she had given birth to a baby boy at the camp in Syria where she has sought refuge along with hundreds of relatives of Islamic militants.
In a recent interview with The Times newspaper, the teenager said she wanted to return back to the UK as she believes that her child will have a better future there.