Brexit guide: what does Theresa May's letter to Jeremy Corbyn mean?
Comments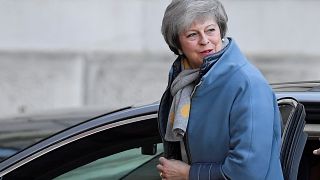 -
Copyright

REUTERS/TOBY MELVILLE
British Prime Minister Theresa May sent a three-page letter to opposition leader Jeremy Corbyn on Sunday night calling for further negotiations on her Brexit deal.
May's Brexit deal was rejected by MPs in the House of Commons by 432 votes to 202 on 15th January with 118 MPs in her own Conservative Party rejecting the plan.
Following her defeat, May had meetings with members of several opposition parties including the Northern Irish Democratic Unionist Party (DUP), which props up her minority government, and Remain-supporting factions of Corbyn's Labour party.
Corbyn initially refused to meet with May to discuss a compromise in the wake of the vote but they later met for one-on-one talks at the end of last month.
Last week, Corbyn wrote a letter to May saying he will support her Brexit deal if she agrees to make five legally binding commitments:
• Remaining part of a customs union with the EU
• Staying closely aligned to the Single Market
• Maintaining workers' rights protections,
• Committing to work with EU agencies
• Committing to work within the EU's security framework such as the European Arrest Warrant.
May has now responded to the letter. She has welcomed his suggestions but has not offered to implement them. Rather she said she wants to meet with Corbyn to discuss the issue further.
She hopes if she can get enough members of Corbyn's Labour party to support her deal she can bypass the members of her own party who are blocking it.
What does the letter say?
In her letter, May calls for Corbyn to meet her for more talks "as soon as possible".
She said they both agree the UK should leave the European Union with a deal which "honours our commitment to the people of Northern Ireland" and "can command support in Parliament" without the need for a second referendum.
But, although she did not reject any of his terms outright, she said the current Political Declaration "explicitly provides for the benefit of a customs union" including no tariffs, fees, rule of origin checks or "quantitative restrictions" while still allowing the UK to form its own independent trade policy.
She also said the EU has provided for the UK to have as close a relationship as is possible with the single market and that the UK government supports guaranteeing working rights and environmental protections but wishes to approve them within its own Parliament.
Why does May need Labour MPs?
The Conservative Party is split on the issue of Brexit so Downing Street believes the only way it can get the deal through parliament is with the support of some Labour MPs.
The majority of Brexit-supporting Conservative MPs say they will not accept any deal which includes the so-called Irish backstop option.
This means the UK will remain in the customs union with the EU unless it can come up with a solution to avoid a hard border between Northern Ireland and the Republic of Ireland.
Brexit-supporting Conservative MPs believe this means the UK will be stuck in the European Union indefinitely as there is no option for the UK to unilaterally withdraw from the backstop arrangement when they believe the conditions to avoid the hard border have been met.
What happens next?
Even if May cannot win over Corbyn she is hoping to convince enough Labour MPs to defy him to vote for the deal.
In recent weeks, the government has been considering infrastructure projects in Labour constituencies which support Leave.
John Mann, a rebel Labour MP who backed the government's deal last month, urged May "to show us the money". In a tweet, he said Brexit-supporting Labour MPs want "a fund of sufficient size to transform our communities".
The majority of MPs in parliament want to avoid a no-deal Brexit. There are fears May will attempt to run down the clock even further to pressure the House of Commons into approving the existing deal to prevent it.
MPs had been preparing for another vote on the deal on February 14 but it now looks like this will be replaced with another debate with MPs having the opportunity to propose amendments to the deal.