Warning that no-deal Brexit will lead to food shortages and price hikes
Comments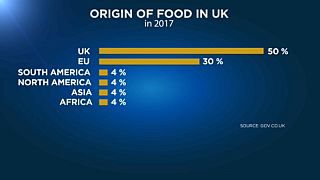 A no-deal Brexit is expected to lead to food shortages and price rises. This according to trade associations and food sector businesses that have already warned about the dangers of leaving the European Union without a deal.
In a letter to the House of Commons, the British Retail Consortium and the heads of large companies in the sector express their concern and are calling for immediate action in order to avoid adverse consequences.
The companies point out that the vast majority of products, such as lettuce, tomatoes and soft fruit are sourced from the EU and they stress that maintaining stock of fresh produce is impossible.
According to British government data on the origin of food in the UK, 30% of food in Britain in 2017 came from the European Union.
Businesses in the sector also point out that the imposition of tariffs would have immediate consequences both for businesses and consumers.