Heavy snowfall causes chaos on roads in southwest Germany
Comments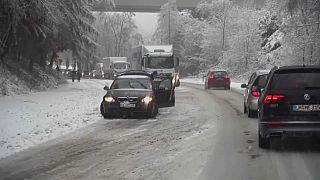 There was chaos on the highways in southwest Germany on Monday after heavy snowfall and icy conditions left motorists to navigate slippery roads.
Traffic slowed and in some places ground to a halt particularly on the Autobahn 48 near Koblenz in Rhineland-Palatinate state.
Several roads were closed, which caused congestion and traffic jams on diverted routes.
The country has been hit with a lot of snow this year and saw fatal avalanches in the south of the country in early January.