UK will have to take part in European elections if it extends Article 50 for over three months
Comments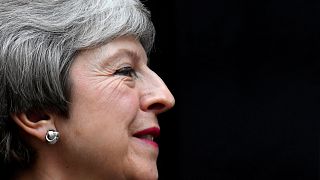 Copyright

REUTERS/Toby Melville
Britain will have to elect MEPs in May if it extends its stay in the European Union for at least three months.
Brussels has been planning European Parliament elections without the UK, who, as things stand, is set to leave the bloc on March 29.
But parliamentary deadlock over UK Prime Minister Theresa May's Brexit deal means some think the most likely next step is for London to request an extension to Article 50.
READ MORE: 'Plots' and 'coups': the UK's behind-the-scenes moves to 'block Brexit'
A spokeswoman for the European Parliament confirmed to Euronews today that if the UK extended its stay beyond July 2 it would have to put forward MEPs.
There are currently 751 MEPs serving in Brussels and Strasbourg.
But the UK's departure means there will be 705 for the 2019-2024 parliament.
"Our working hypothesis is that the UK is leaving the EU on March 29 this year," said the spokeswoman.
"This follows Prime Minister May's formal notification to the European Council on March 29, 2017.
"Any discussions on the terms of an extension of Article 50 remain theoretical. There has been no UK request for an extension of the Article 50 period.
"Should the UK request to extend Article 50, it will be a matter for the EU27 to decide by unanimity.
"The new composition of the EP will only enter into force in case the UK is not a member at the beginning of the next term, ie on July 2, 2019.
"If the UK is still a member, the current composition will still apply."