'Gilets jaunes': 80,000 police officers deployed for 'Act 9' on Saturday
Comments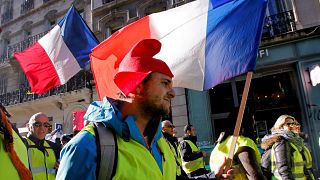 Eighty-thousand police officers will be deployed across France on Saturday as authorities prepare for the number of "gilets jaunes" ("yellow vest") protesters to swell again as the movement enters its ninth week.
Five-thousand will be deployed in Paris alone.
The numbers match those of mid-December, at the height of the protest, and come after authorities in several municipalities, including Paris, appeared caught off guard by the number of protesters last week because the movement had appeared to weaken during the holiday season.
Saturday will mark "Act 9" or the ninth day of national action for the "gilets jaunes". The citizen movement was first created as a protest against a planned fuel tax rise but mutated into a crisis about inequality and spending power.
The government has struggled to contain the movement which has no leadership structure and is not affiliated to any political party or trade unions, making negotiations all but impossible.
The movement has also been criticised for the violence seen at some protests — primarily in Paris in scenes sometimes reminiscent of guerilla warfare — although authorities and many "gilets jaunes" have put the blame on far-left or far-right groups.
But on Friday Interior Minister Christophe Castaner warned peaceful protesters that they would be "complicit" if they attend marches that turn violent.
"Those who come to protest in towns where breakage had been announced know they will be complicit in these events," he said during an interview with Brut, aired on Facebook.
The government has also sought to toughen the law against unauthorised protests.
Bourges bans protest in city centre
Bourges, meanwhile, has forbidden "gilets jaunes" protesters from marching in its city centre after one of the movement's leading figures called for the ninth day of national action to be held there.
"Gilets jaunes" protesters have gathered in cities across France every Saturday for the past two months, with the main focus on Paris.
But as they prepared for their "Act 9", Priscilla Ludosky, one of the movement's most prominent figures, called for Bourges to become the epicentre of the protest.
Ludosky argued the city of 68,000 inhabitants is an ideal meeting point because its location, in the centre of the country, makes it easier for people to reach.
So far fewer than 3,000 people have stated on Facebook that they would be heading there, although 13,000 have said they're interested.
She said in a Facebook post on Tuesday that the local authorities had been made aware of the plan to protest and also laid out an itinerary.
But the prefecture of the Cher department, where Bourges is located, denied on Thursday that a demand to protest had been filed.
On Friday, Prefect Catherine Ferrier announced that she had decided to ban gatherings in the city centre.
'Respect goods and people'
"The anticipated size of this gathering, which was not declared to the prefecture (...) has nothing to do with previous peaceful marches that took place in the city of Bourges," the decision reads.
It also lists the high concentration of "public buildings, historical monuments" and shops as the reason for the ban, citing the risk of "degradation" or "voluntary fire attempts" against them, as seen in previous "gilets jaunes" protests.
Ferrier also stated that the centre's narrow streets make it difficult for law enforcement officers to operate.
The mayor, Pascal Blanc, has also decided to close the city centre to traffic and ordered city hall and museums be closed.
"Demonstration: yes but with respect for goods and people," he wrote on Twitter.