Come up Trumps: archive clips triumph at poking fun at Donald's wall links
Comments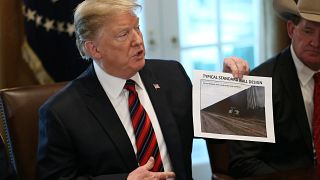 Two archive clips have been unearthed to jokingly suggest Trump's focus on walls has a much richer history.
Donald Trump is currently embroiled in a dispute with Democrats over funding for a wall on the US-Mexico border.
Building the structure was a key campaign pledge and something the US president has been keen to deliver during his first two years in office.
But now footage has emerged to playfully question whether Trump's current wall focus has a somewhat longer backstory.
The fact-checking website Snopes says it has verified a video posted online of a 1950s western TV series featuring 'Trump' and a wall.
In it, 'Trump' is a snake oil salesman character who promises to build a wall around a town to prevent the end of the world.
"I am the only one," 'Trump' says in a conversation with residents. "Trust me. I can build a wall around your homes that nothing will penetrate."
"What do we do?" ask the residents. "How can we save ourselves?"
"You ask how do you build that wall," 'Trump' says. "You ask, and I'm here to tell you."
Meanwhile, the Daily Show has published a video of Trump purportedly giving a motivational speech at a college in 2004.
"Never give up, do not let that happen, if there's a concrete wall in front of you, go through it, pass over, turn around, get to the other side of the wall," he says.