Orban warns immigration will divide EU ahead of parliamentary elections
Comments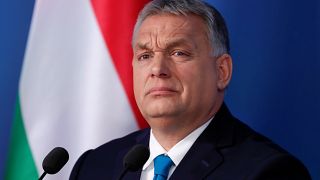 Hungarian Prime Minister Viktor Orban held his first government news conference of 2019 on Thursday, where he drew a distinct line between European ideologies.
"There will be two civilisations in the EU," said Orban in Budapest, "One mixed Muslim-Christian in the West, and one traditional European-Christian in Central Europe."
Orban laid out his goal of electing an anti-immigration majority in the bloc's parliamentary elections in May.
"(The) most important political issue for us is the EP (European Parliament) election. 52% of Hungarians think the biggest challenge in the EU is immigration. Only we can decide with whom we want to live in the future," said Orban.
Orban's conservative, nationalist government, which pledged to continue resistance to mass migration into the European Union, has faced a series of protests in the past weeks.
Orban claimed that a majority of Hungarians have illiberal views and that liberals are the enemies of freedom in Europe.
"We have reached a point in Europe where liberals have become enemy number one of freedom," said Orban. Orban gave the example of Belgian politician and Leader of the Alliance of Liberals and Democrats for Europe, Guy Verhofstadt, as someone who threatens Europe's freedom.
Orban also touted Hungary's current financial stability quoting GDP growth at 4.6%, while state debt declined by 71%. However, he said Hungary did not have a date for joining the Eurozone because the future of the currency was unclear.
During the speech, Orban referred to far-right Italian Deputy Prime Minister Matteo Salvini as "still his own hero" and welcomed the Polish-Italian project aimed at anti-immigration cooperation.
Salvini was in Warsaw on Wednesday to discuss the formation of a eurosceptic alliance with the leader of Poland's ruling party.
"I have big hopes on Polish-Italian cooperation. I'm fed up that the European People's Party (EPP) is only cooperating with liberals. We should look to the right from the EPP," said Orban.
Salvini joined Orban in August 2018 in launching an anti-migration manifesto.
At the press conference, Euronews correspondent Robert Csakany asked Orban why he supports Manfred Weber who voted for the Article 7 resolution against Hungary.
"My friend, Manfred Weber was indicted," answered Orban.
Orban addressed recent unrest in Hungary by saying he does listen to protesters and does not try to avoid debate, but reassured his parliamentary majority makes the final decision.
He announced there would be a plenary debate in reference to Hungary's change to the nation's labour law, which was passed by parliament in December and has faced intense criticism, sparking the biggest street protest in over a year.
The law was dubbed the "slave law" by critics because it allows employers to ask staff to work two extra hours on top of an average working day — the equivalent of an extra day of work per week. That's up to 400 hours of overtime per year.
Orban announced that any extra working hours had to be paid and that there was "no other option".
Not all Hungarian media was present at the press conference as six outlets were banned due to "lack of space." The outlets Magyar Hang, Azonnali, Klubrádió, Mérce, Direkt36, and Alfahír were not represented at the presser Thursday.
Orban said he does not give interviews to independent or opposition media because he does not want to fight (verbally) with journalists.
Orban declined to answer questions about wealth accumulated by members of his entourage, saying the press conference was not focused on "business". One of his childhood friends has become one of Hungary's richest men after winning a series of state contracts, while OLAF, the anti-fraud watchdog, has warned about the use of EU funds in projects linked to the PM's son-in-law.
"You can check my personal wealth reports from the last 30 years," said Orban, "We have strict rules on transparency."