Athens snowstorm, French cardinal case and UK abusive protesters: Europe briefing
Comments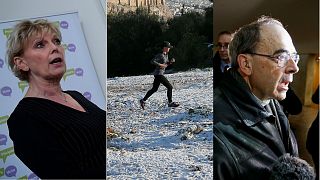 1. Trial of French cardinal enters second day
The Roman Catholic archbishop of Lyon, Cardinal Philippe Barbarin, faced the second day of a three-day trial on Tuesday, over allegations that he failed to report a priest for the sexual abuse of children.
Speaking in court on Monday, Barbarin denied the allegations.
"I did what Rome asked me to do. They asked me to avoid a public scandal and I acted accordingly ... My authority is Rome," he said.
2. British MPs urge police to improve response to abusive protesters
More than 50 MPs have called on police in the UK to improve their response to abusive protesters outside parliament after Conservative lawmaker Anna Soubry was called a "Nazi" and a "liar" on Monday.
Journalist Owen Jones also encountered verbal abuse from the protesters.
Euronews correspondent Vincent McAviney said the situation had changed in recent weeks.
"Protesters have been good-natured until, a couple of weeks ago, a group of far-right protesters started coming down [to College Green] and they've been hurling abuses at journalists and heckling MPs. It has now stepped up into something quite ugly," he said.
3. Athens hit by heavy snowfall
Athens has been hit with a snowstorm, while much of northern Greece is struggling to deal with snow and subzero temperatures.
The unusual weather has led to flight delays, while schools have been shuttered in the worst-hit areas.
4. German police arrest 20-year-old man over data hack
A 20-year-old man has been arrested in Germany in connection with the massive hack on politicians and other public figures last week, the BKA federal criminal police announced on Tuesday.
Around 1,000 politicians, celebrities and journalists were affected by the online attack, in which personal data and documents were published online.
5. French prime minister vows tougher laws amid 'gilets jaunes' protests
French Prime Minister Edouard Philippe has announced plans to toughen up laws in response to the ongoing gilets jaunes (yellow vests) protests.
Draft legislation will ban the use of face masks and ensure demonstrators register their protest.
Meanwhile, at least 80,000 police are set to be deployed for the next set of protests.
6. German MP seriously injured in attack
Far-right German MP Frank Magnitz was seriously injured on Monday in a gang attack, police said.
Magnitz, who heads the anti-immigration populist Alternative für Deutschland (AfD) party in Bremen, was attacked by three people in the northern city.
A photo shared by the AfD on social media showed the extent of the head injuries sustained by the politician.
7. EU 'agrees on sanctions against Iran intelligence service'
The European Union has agreed on sanctions against an Iranian intelligence service for planning assassination plots in Europe, Danish Foreign Minister Anders Samuelsen said on Tuesday.
Samuelson described the move as an "important day for European foreign policy" and a "strong signal from the EU that we will not accept such behaviour in Europe."
You can follow our live coverage between 6am-3pm every weekday in the blog below: