German hacking suspect lives with parents and acted alone, say investigators
Comments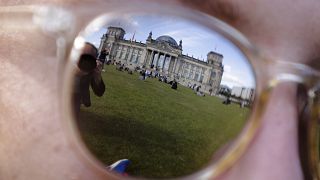 Copyright

AP Photo/Markus Schreiber, file
A 20-year-old man has been arrested in connection with the massive online attack on politicians and celebrities last week, the BKA federal criminal police said on Tuesday.
During a press conference, investigators from the Frankfurt am Main Attorney General's Office revealed that the suspect is still living with his parents, still in education and was released from custody yesterday.
By his own account, say the investigators, the suspect was acting out of anger at public statements made by his victims.
According to adult criminal law, he could be sentenced to a maximum of three years in prison for each of the two offences (spying out data and data leakage). But since he is so young, the punishment is likely to be far milder - especially since he has no previous convictions.
The briefing also outlined how the suspect confessed and helped with the investigation.
Moreover, he acted alone.
According to the Federal Ministry of the Interior, about 1000 politicians, celebrities and journalists were affected by the online attack, but in up to 60 cases more extensive personal data was published.
The information appeared to include data on members of all parties in parliament except those from the far-right Alternative for Germany party.