EU agrees sanctions against Iran's intelligence agency, Danish FM says
Comments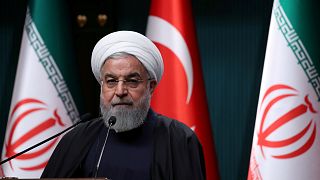 The European Union has agreed to enact sanctions against Iran's intelligence agency "for its assassination plots on European soil," Danish foreign minister, Anders Samuelsen, said on Tuesday.
According to the Danish Foreign Ministry, both Iran's intelligence agency and its director general of intelligence, Saeid Hashemi Moghadam, were now on the EU's terror list.
Danish Foreign Minister Anders Samuelsen said the EU's decision marked "a huge victory."
"No other country's intelligence services are on the terror list," he said in a statement. "So it's a very clear signal we send to Iran today."
In a tweet posted earlier on Tuesday morning, Anders added that he believed the signal showed that the EU would "not accept such behaviour in Europe."
Danish Prime Minister Lars Lokke Rasmussen tweeted shortly after, saying the EU's decision was "very encouraging."
"(The) EU stands united," he said, adding that Iran's actions were "unacceptable and must have consequences."
Denmark has been particularly vocal about its support for the EU sanctions after officials said in October last year they had uncovered an Iranian-backed assassination plot on Danish soil.
The plot was carried out by a Norwegian citizen of Iranian background, who had ties to Iran's intelligence agency, and planned to assassinate an Iranian-Arab opposition activist in Denmark, officials claimed.
READ MORE: What's behind Denmark's 'Iran murder plot' claims? | Euronews answers
Earlier in October, French authorities said they had foiled a plot to attack an exiled opposition group near Paris. The Iranian intelligence ministry was "without any doubt" behind the plot, a diplomatic source was quoted by Reuters as saying.