UK police arrest two men for suspected migrant smuggling across Channel
Comments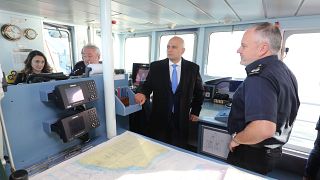 -
Two men were arrested "on suspicion of arranging the illegal movement of migrants" across the English Channel, Britain's National Crime Agency announced on Wednesday.
Officers arrested a 33-year-old Iranian national and a 24-year-old British man in Manchester, the NCA said in a statement.
"As the investigation is ongoing, we are unable to comment further at this time," it added.
More than 230 people have made the crossing by boat since November — a dangerous feat as the 21-mile wide Channel is one of the world's busiest shipping lanes.
Overall, more than 530 people reached the UK this way in 2018, according to the Home Office. Most claim to be from Iran and Iraq.
Britain declared the surge a "major incident" last week warning that "it was only a matter of time before people lose their lives."
France and Britain have since announced an "enhanced action plan" to combat attempts to cross with London redeploying two Border Force vessels currently used in the Mediterranean as part of Operation Frontex to patrol the Channel instead.
French police announced on Tuesday that it had stopped 14 migrants from making the attempts.
The UK's Home Secretary, Sajid Javid, defended the plan on Wednesday during a visit to border forces in Dover.
"People should not be taking this very dangerous journey and, if they do, we also need to send a very strong message that you won't succeed," Javid said.
"We need to send a strong message that these gangs preying on you and selling you a false prospects will not succeed.
"If you somehow make it to the UK, we will do everything we can to make sure you are ultimately not successful because we need to break the link," he added.
His comments were condemned by rights groups including the Refugee Council which described them as "deeply concerning."
"The outcome of an asylum application cannot be pre-judged before it has been made and must be processed on its individual merit, irrespective of how that person reached the country," Lisa Doyle, director of advocacy at refugee Council, said in a statement.
"It's a shame that the Home Secretary seems to need reminding that seeking asylum is a right and the UK has an obligation to assess claims fairly and grant protection to those who need it," she added.