Recent migrant crossings in English Channel 'major incident,' UK Home Office says
Comments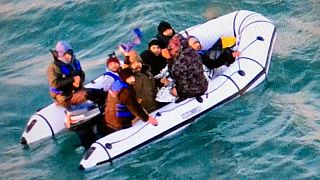 The recent attempts by migrants to cross the English Channel into Britain is to be treated as a major incident, the UK's Home Secretary Sajid Javid said.
Javid said he has taken control of the response to the rising numbers of migrants crossing the sea in small boats.
He asked for an urgent call with his French counterpart to "reaffirm" the continuing need for the UK and France to work closely in tackling the problem.
The country's border authority connected the crossing attempts with organised criminal gangs.
"Sajid Javid has intervened to ensure everything possible is being done to disrupt and prosecute organised people smuggling gangs and deter migrants from attempting the dangerous crossing, amid concern that it is only a matter of time before people lose their lives," a Home Office spokesperson said.
The Home Secretary's announcement follows reports of a further 12 migrants who were picked up by authorities as they crossed the Channel in two separate boats on Friday morning.
One boat was originally spotted by a passenger ferry off the coast of Dover, AP said.
"The number of incidents over recent days is deeply concerning. Some of this is clearly facilitated by organised crime groups while other attempts appear to be opportunistic," Immigration Minister Caroline Nokes said in a statement to Euronews.
Since November this year, some 221 migrants have crossed the English Channel into Britain.
Last month, a government inspection into Britain's border vessels, also known as cutters, found that the country has two to patrol its coastlines.
Of the fleet of five seagoing cutters operated by the UK Border Force, one was stationed in the Mediterranean and the other in the Aegean — at the time of an inspection into Border Force operations.
The other three were stationed in British waters, however, only two of those were operational. This third was kept on standby, the Independent Chief Inspector of Borders and Immigration inspection found.
A Home Office spokesperson told Euronews that it had increased the number of coastal patrol vessels this year in response to people attempting to reach the UK illegally.
"We are alert to the risk posed by people attempting to reach the UK illegally via small boats. This year we have increased the number of coastal patrol vessels and, in light of recent events, have stepped up deployments along the South-East coast."