British Army reaches out to 'snowflakes, selfie addicts and gamers'
Comments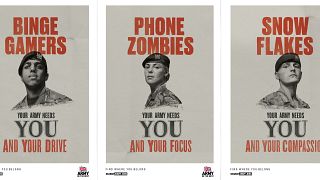 A new British Army recruitment drive targeted "snowflakes, selfie addicts, class clowns, phone zombies, and me, me, me millennials."
But instead of disparaging the stereotypes, the campaign points out their positive qualities, such as empathy, stamina, focus and self-belief.
Aimed at 16 to 25-year-olds — so-called Generation Z — the campaign was intended to show that the army "sees people differently" and recognises their "need for a bigger sense of purpose," said Major General Paul Nanson, Commandant of the Royal Military Academy at Sandhurst.
The campaign is modeled on the iconic World War I recruitment posters featuring Lord Kitchener and the tag line "Your Country Needs You."
It came as the British Army was struggling to recruit enough new troops. Figures released to the House of Commons defence committee last year showed that the number of fully-trained troops stands around 5,500 short of the target figure of 82,500.
A recent National Audit Office report found that the army has consistently failed to meet its annual recruitment targets since 2012.