Brazilian government mistakes Orban for Pompeo on Twitter
Comments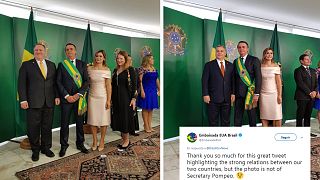 Can you tell the difference between Hungarian Prime Minister Viktor Orban or US Secretary of State Mike Pompeo?
Apparently, the new Brazilian government could not, according to a Twitter post that mislabelled Orban as Pompeo.
Far-right Brazilian President Jair Bolsonaro was inaugurated this week and Orban and Pompeo were both present for the event and were pictured standing next to Bolsonaro and his wife.
The gaffe caused a firestorm on social media and the US Embassy highlighted the mistake. Here is a side by side comparison of the two politicians:
The mistake was later corrected: