Brazil's Bolsonaro strips agency of power to mark out indigenous lands, unsettling native groups
Comments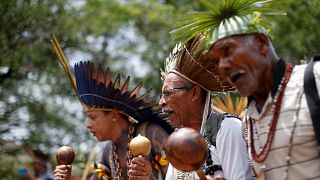 Jair Bolsonaro transferred the regulation of lands claimed by indigenous people to Brazil's Agriculture Ministry, in an executive order issued on Wednesday.
Some farming organisations in the South American country's agribusiness sector have praised the move while the decision unsettled environmentalists and indigenous leaders over concerns it risks wiping out the culture of native people.
The temporary decree, which will expire unless rarified in the next 120 days, strips power over land ownership decisions from FUNAI, a native peoples affairs agency in Brazil.
The Agriculture Ministry will now be in charge of "identification, delimitation, demarcation and registration of lands traditionally occupied by indigenous people," the order states.
FUNAI will instead be moved to a newly set-up ministry for family, women and human rights.
Environmentalists are concerned over the decision saying it risks the opening up of the Amazon rainforest and other sensitive areas of Brazil to commercial exploitation, Reuters said.
The decree also shifts control of the Brazilian Forestry Service, a section of the government that promotes the sustainable use of forests, from the Environment Ministry to the Agriculture Ministry.
Brazil's agribusiness sector strongly backed Bolsonaro during his campaign, in which he said he was considering such an executive order. The president said the lands that are protected should be opened for commercial ventures.
Making up less than 1% of the population, some 900,000 indigenous people in Brazil live on lands stretching for 106.7 million hectares (264 million acres), or about 12.5% of the country.
"Less than a million people live in these isolated places in Brazil, where they are exploited and manipulated by NGOs," Bolsonaro tweeted. "Let us together integrate these citizens and value all Brazilians."
Critics and environmentalists say the indigenous people of Brazil are now at risk of having their cultures and languages destroyed through integration into mainstream society.
Dinamã Tuxá of Brazil's Association of Indigenous Peoples said many native groups fear Bolsonaro.
"We are very afraid because Bolsonaro is attacking indigenous policies, rolling back environmental protections, authorizing the invasion of indigenous territories and endorsing violence against indigenous peoples," Tuxá said.
"You see? The dismantlement has already started. FUNAI is no longer responsible for the identification, delimitation and demarcation of indigenous lands," an indigenous leader, Sonia Guajajara, tweeted.
Tereza Cristina Dias, who was sworn in as Agriculture Minister on Wednesday defended Brazil's farm sector and said it has not grown at the expense of the environment.
"Brazil is a country with extremely advanced environmental legislation and is more than able to preserve its native forests," Dias said. "Our country is a model to be followed, never a transgressor to be punished."
Farmers cheer the decision
One of Brazil's major grain farming associations praised the move on Wednesday.
Bartolomeu Braz, president of Aprosoja said the rules will be of interest to farmers and native peoples.
"The new rules will be interesting to the farmers and the Indians, some of whom are already producing soybeans. The Indians want to be productive too," he said.
Former Environment Minister Marina Silva and presidential candidate, who Bolsonaro beat in October's election, strongly rejected the move.
"Bolsonaro has begun his government in the worst possible way," she posted on Twitter.
Bolsonaro, who admires US president Donald Trump, took power on Monday January 1. The executive order was reportedly issued late on Tuesday.
'Serious conflict of interest'
In a statement to Euronews, Amnesty International Brazil director Jurema Werneck said Bolsonaro's measures indicate a "possible threat to the rights of indigenous and quilombola peoples."
"The transfer to the Ministry of Agriculture, Livestock and Supply of functions related to the demarcation and titling of lands that competed respectively with the National Indian Foundation (Funai) and the National Institute of Colonization and Agrarian Reform (INCRA) represents a serious conflict of interest," he said.
Weneck added the change of structure risks the guarantee of the right to land of indigenous groups.
"Such measures open space for setbacks and violations of the rights of indigenous and quilombola peoples, which is unacceptable, "he said.