European People's Party blocks critics of Viktor Orban on Twitter
Comments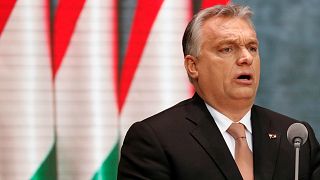 The Twitter account for the European People's Party (EPP), the party with the biggest presence in the European Parliament, blocked the accounts of two high-profile users this weekend after they tweeted criticisms of far-right Hungarian Prime Minister Viktor Orban.
Despite the EPP tweeting on Sunday evening that the accounts had been "mistakenly blocked," and had subsequently been unblocked, it highlighted the deep divisions inside the party over views of Orban and his Fidesz party.
Andrew Stroehlein, the European media director for Human Rights Watch, tweeted on Sunday afternoon shortly after discovering he had been moved to the EPP's blocked list.
He then pointed to the tweet he believed prompted the block, in which he criticised the EPP's support of Hungary's Fidesz party.
"You can't say you're a group of parties that support democracy and yet promote Hungary's ruling Fidesz, which has undermined academic freedom, media freedom, and other core rights," Stroehlein had written. "The EPP has abandoned fundamental democratic values."
Also on the blocked list was Simon Rippon, a professor at the Central European University in Budapest, which announced on Monday a move to Austria after a legal dispute with Hungary's government.
Rippon pointed toward the tweet he believed got him the EPP block, in which he also criticised the party's relationship with Orban.
"You'd better get more pain for your red lines EPP because your little dictator Orban has been walking all over them," he wrote. "Is this what you stand #StrongerTogether for?"
Central European University dispute
Hungary's Central European University (CEU), founded by Hungarian-American billionaire George Soros, set itself a deadline of December 1 to settle a legal dispute with Hungary's government.
With the deadline passed and without a resolution, the CEU announced on Monday that it would move all its US-accredited degree programmes to Vienna for September 2019.
"CEU has been forced out," the CEU president and rector, Michael Ignatieff, said. "This is unprecedented. A US institution has been driven out of a country that is a NATO ally. A European institution has been ousted from a member state of the EU."
Soros, a supporter of liberal democracy, has been a political target of far-right Orban and his Fidesz party for some time. Open Society Foundations, a charity founded by Soros, closed its office in Budapest earlier this year after repeated attacks from the Hungarian prime minister, including claims that the charity had encouraged migration to Europe.
Fidesz and the EPP
The European People's Party has been widely criticised for not breaking its partnership with Fidesz, a party with openly eurosceptic and anti-immigration views.
Many high profile politicians and human rights advocates have used the hashtag #expelFidesz to join the discussion, and, in June, the Dutch Christian Democratic party passed a motion to encourage the EPP to give Fidesz the boot.
The EPP's blocking (and unblocking) of two account tweeting criticism of the Fidesz-EPP partnership has been widely criticised by other high profile users on social media.
Alice Stollmeyer, the executive director of Defend Democracy, summed up the sentiment felt by many.
"Hey EPP, blocking professors and human rights experts with legitimate criticism is not looking good on you," she wrote. "Especially if you claim to be a 'people's party.'"