Cyprus appoints first ever tourism minister in hope to boost key sector
Comments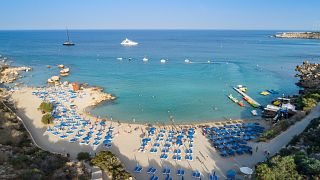 -
Cyprus appointed its first ever minister for tourism on Wednesday in order to develop a strategy for the island's biggest sector.
Former hotel executive Savvas Perdios is to be sworn in as the small Mediterranean island's first deputy minister for tourism.
The dedicated ministry was created to replace the Cyprus Tourism Organisation (CTO), a 50-year-old entity, which oversaw the tourism sector until now.
But the CTO was criticised by key players in the sector as too slow given that it had no legislative power.
Still, the sector has been going from strength to strength. According to the Cyprus Hotel Association, hoteliers' revenues have jumped every year for the past four years with hotels earning more than €2.68 billion in the first nine months of 2018 compared to €1.69 billion in the same period in 2014.
The industry now accounts for 22.3% of Cyprus' gross domestic product, according to the latest report from the World Travel and Tourism Council. The body also expects the sector to get a more sizeable share of the economy and grow to represent 29% of GDP in 2028.
Some local commentators however have cast doubts on the ministry ability to be more flexible than the CTO.
In an editorial the Cyprus Mail newspaper said "it is rather difficult to believe the deputy ministry will be much faster in taking decisions, implementing policies and responding promptly to changing conditions in the tourism market."
The local Financial Mirror outlet echoed the criticism, writing that "the trouble with the new Deputy Ministry of Tourism, is that it will suffer from the same constraints as with all the rest of the government machine, with the civil service mentality hampering any progress."