Cyprus's low-cost airline folds, leaving hundreds of passengers stranded
Comments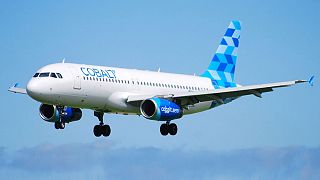 Copyright

Cyprus News Agency
Low cost carrier Cobalt Air, which was the largest airline based in Cyprus, went into administration on Thursday, stranding hundreds of passengers on the Mediterranean island.
Unconfirmed reports suggest that it ran out of money after it failed to reach a deal with a potential European investor. Cobalt has yet to comment.
Reports in several Cypriot media outlets this week suggested Cobalt's mainly Chinese backers had difficulty channelling funds to the airline, which operated with six leased Airbus planes.
The airline's website instructed passengers who have unused tickets not to go to Larnaca airport on Thursday - or indeed any other airport - as no Cobalt flights would be operating and no Cobalt staff would be present.
The transport ministry said in a statement that passengers expecting to fly with Cobalt on Thursday should secure one-way tickets in economy class from another airline, and keep their receipt for their reimbursement.
It was not immediately clear how many passengers would be affected, but nine flights had been scheduled to arrive and a further nine to depart at Larnaca airport on Thursday. In all, the airline flew to 23 destinations.
It had six aircraft - two Airbus 319s and four Airbus 320s.
In early October rumours began circulating that Cobalt was facing cash-flow problems after two of its aircraft were grounded for two days, causing delays to certain flights.
According to the Economy Today website, the company has only €15 million its accounts, which is expected to be used to pay Cobalt employees.
Cobalt stepped in to replace bankrupt Cyprus Airways, which shut down in January 2015.
The airline had expanded rapidly to about 20 destinations since its launch, adding a business class and, recently, a frequent flyer programme.
It was not immediately clear what would happen with passengers with future bookings. Cypriot transport minister Vassiliki Anastassiadou said alternative arrangements would be made, the semi-official Cyprus News Agency reported.
Cobalt's website stopped showing its schedule and prices at around 2300 local time (2000 GMT) on Wednesday.