Congo expulsion; Vienna manhunt; and Dubai princess claim: Five stories to know about today
Comments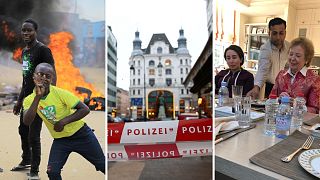 1. DRC expels EU ambassador over sanctions
Ahead of Sunday's presidential election, the Democratic Republic of the Congo (DRC) has expelled EU ambassador Bart Ouvry after sanctions were renewed against government officials, including the ruling coalition's presidential candidate.
Emmanuel Ramazani Shadary was penalised last year for obstructing Congo's electoral process and violently tackling protests that followed.
The renewal of sanctions come days after Congo's Foreign Minister pleaded with EU officials to lift them for a "probationary period". The measures include banning his entry into the EU, banning him from funding other persons on Brussels' blacklist and permitting the freezing of assets.
Violence has also erupted DRC after voting in three regions was postponed. Watch Euronews' report on the story in the video player above.
2. Search for missing cruise ship entertainer is suspended
The US Coast Guard said on Thursday it has suspended a search for cruise ship entertainer Arron Hough.
The 20-year-old from Sunderland, England, fell from the Royal Caribbean liner on Christmas Day, 267 miles from Aguadilla, in Puerto Rico.
Commander Christopher Douglas, chief executive of the coastguard's San Juan sector, said: "We've been in contact with members of Mr Hough's family throughout our search efforts and know this is a very difficult and painful time for them.
"Suspending a search is one of the most difficult decisions we have to make as first responders, and it is never made lightly."
CCTV footage showed him heading to the deck at about 4 am, but staff did not know he was missing until he failed to report to work later that day.
The US Coast Guard was alerted to his disappearance at 1.45pm.
3. Manhunt launched after monks beaten, tied up and gagged in Vienna
Five monks have been injured, one seriously, after being held captive at a Vienna church, police said.
Police launched a search operation and deployed a helicopter to the area as well as putting in public transport controls to search for up to two men suspected of carrying out the attack.
They remain on the run.
Several of the monks were tied up in the church and gagged, according to Vienna police spokesperson Harald Soros.
4. UK crime agency investigates leaks in insider trading probe
Britain's National Crime Agency (NCA) is investigating claims that an employee leaked information to a suspect in an insider-trading investigation, according to the Wall Street Journal.
Citing sources close to the matter, the newspaper reports that a government translator with access to wiretap recordings had tipped off the target in exchange for money.
It is feared such an act would seriously undermine a probe into insider trading suspects in Europe.
The NCA is yet to comment.
5. Dubai princess Sheikha Latifa a "troubled young woman", claims ex-human rights chief
Former UN High Commissioner for Human Rights, Mary Robinson, has sparked anger after telling the BBC that Dubai princess Sheikha Latifa was a "troubled young woman".
Latifa, 33, attempted to flee abroad in March but was recaptured and returned home. A video of the princess soon emerged where she revealed her family "did not have freedom of choice" and she described being imprisoned and tortured following a previous escape attempt.
The UAE denied the claims.
Robinson recently met Latifa, the daughter of Dubai's ruler, amid calls from rights groups to check on her welfare.
Following the meeting and Robinson's BBC interview, Radha Stirling, head of rights group Detained in Dubai, said: "This meeting in no way satisfies me that she [Sheikha Latifa] is free from the abuse that she told me she had suffered for years."
As it happened on Friday, December 28, 2018
This is how we covered key developments this morning: