Search for missing cruise ship entertainer is suspended
Comments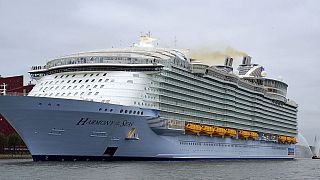 -
The US Coast Guard said Thursday it has suspended a search for cruise ship entertainer Arron Hough.
The 20-year-old from Sunderland, England, fell overboard from Royal Caribbean's Harmony of the Seas ship on Christmas Day, 267 miles (430 kilometres) northwest of Aguadilla in Puerto Rico.
Hough was working as a dancer, performing in the musical "Grease" aboard the ship.
Commander Christopher Douglas, chief executive of the coast guard's San Juan sector, said: "We've been in contact with members of Mr Hough's family throughout our search efforts and know this is a very difficult and painful time for them.
"Suspending a search is one of the most difficult decisions we have to make as first responders, and it is never made lightly."
Crews had scoured 3,707 square miles over 83 hours when the search was halted.
'Not seen again'
Cruise operator Royal Caribbean said the ship's crew became concerned after Hough failed to report to work as scheduled on Tuesday.
"We are saddened to report that after a review of the ship's closed-circuit camera footage, he was observed entering the area on Deck 5 at around 4 a.m and was not seen again," it said in a statement.
Authorities were alerted while a "ship-wide search" was conducted.
The ship which departed Florida on December 23 on a seven-night itinerary through St Marteen, Puerto Rico and Haiti, was en route to Philipsburg, St Maarten, at the time.
"Our Care Team is providing support to the family and friends of our colleague, and our thoughts and prayers are with them during this difficult time," the statement added.
'Shocked and saddened'
His talent agency, Russell Smith Associates, tweeted that they were "shocked and saddened."
"Our thoughts are with all of his friends and family and we hope for him to be found soon," they added.
London's Urdang Academy, a performing arts school from where Hough graduated, said staff were "all praying for Arron Hough and his family."
"Please keep up your hope and faith that he is found safe and sound as soon as possible," the college wrote on Twitter.
Cryptic message
Posts Hough made on social media platforms have raised concerns that the incident may not have been accidental.
"Beneath the water is beauty...Always look beneath the surface before you decided on things," Hough posted on Twitter on Saturday.