Don't like Christmas? A psychologist explains how to cope
Comments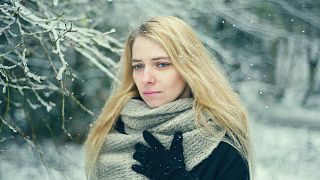 Do Christmas decorations put you in a bad mood? Do family meetings fill you with dread? Do Christmas carols irritate you?
You're not the only one who finds Christmas difficult.
Fernando Azor, a psychologist from gabinetedepsicología.com, explained to Euronews how to cope if you don't like the festive period.
1. It is not an illness
The "Christmas blues" is not a psychological disorder or an illness in its own right, Azor told Euronews. Although, its most extreme symptoms can be worrying: sadness, lack of appetite, sleep disruption, and anxiety.
"It is an 'extra', which occurs on top of other problems," said Azor, who pointed out that Christmas occurs at a time of the year when we inevitably take stock "look behind us" and face our expectations and memories head-on.
Did we expect something to have happened and it didn't? Were we happier in years gone by?
2. You don't really hate Christmas
"If I said to you: 'Do not imagine a pink elephant', what would you think about? Probably a pink elephant," he said.
Azor said that the "pink elephant" exercise, widely used in psychology, can be applied to people who try too hard to avoid Christmas that the opposite effect occurs.
And it is impossible to hide from the holidays — reminders can jump up on you in many situations, he added.
For Azor, instead of obsessing and trying to reject Christmas, the first thing to do is to identify the cause of your feelings. Then you should allow yourself to be sad or angry:
"Reconcile yourself with your discomfort," he said.
In addition, the psychologist said it is important not to hide or keep these negative feelings inside as this will hinder facing up to the situation.
3. Remember the nature of advertising
Do you feel like there is a plot against you that makes you sad every time you turn on the television?, Azor asked.
It is normal to see happy people and families united at Christmas in adverts, which can exacerbate feelings of isolation, especially for those who are going through a particularly difficult time like a divorce or the loss of a loved one, he explained.
Don't forget the purpose of these adverts is to sell things and, like for other celebrations, sell stereotypes and positive feelings — suffering does not sell.
The same theory applies to social networks; people do not usually post sad images, especially at Christmas.
4. Spend Christmas how you want to
Azor's main advice to "survive" these dates was to "normalise" the period. "Do not fight Christmas" and remember that there is "no need to reproduce" the model imposed by society, he added. One can accept all the clichés and "live a Christmas fairytale", said Azor, or, alternatively, see the nuances and choose not to celebrate in a traditional way.
5. What if you like Christmas but live with someone who hates it?
You should also accept the situation, explained Azor.
"If your loved one hates Christmas, give them space, respect their decision whether or not they want to celebrate and encourage them to reconcile with how festivities will happen in the household," he said.