Thousands protest against Hungary's contoversial new labour laws
Comments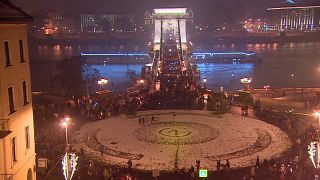 Thousands of Hungarians marched to the presidential palace on Friday night to protest against controversial labour law reforms.
They joined up with a rally led by the spoof Two Tailed Dog party and another demonstration staged by other opposition groups.
Launched over a decade ago as a joke, the party has now become a semi-serious force in Hungarian politics, using ironic humour to tackle practical issues.
The "slave law" as it's been dubbed, means employers can now demand that some employees work 400 hours overtime. The previous limit had been 250 hours.
Another law that has upset protesters will set up new courts which they say could be politically manipulated.
"I am sick of not seeing the consequences of things that are being done here, I am sick of the people's voice not being heard by the authorities," said one protester, who preferred to only give his first name, Istvan.
The protesters also oppose regulations that have led to the departure of the Central European University, founded by Hungarian-born billionaire George Soros, from Budapest.
President Orban said the protests have been partly stoked by activists paid by Soros, an accusation Soros' Open Society Foundation has denied.
The government says the labour reforms are needed because there's a serious labour shortage.
Hungary's population has been declining for years and there's a brain drain as young people head elsewhere in the EU for work.