Global gender parity is centuries away, new report asserts
Comments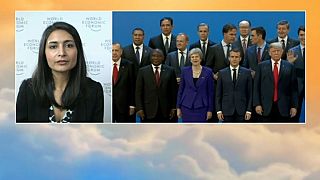 It could take another 200 years until women reach economic parity with men. That's the startling picture of inequality a new report released this morning has shown.
Though the gap has slightly narrowed – a new report by the World Economic Forum shows that there are proportionately far fewer women than men both in the labour force as well as in politics, while access to healthcare, education as well as political empowerment actually showed a reversal in progress from previous years.
The data was harvested by analysing information from professional networking website LinkedIn.
Saadia Zahidi, head of social and economic agendas at the World Economic Forum (WEF) told Euronews that gender equality is "stalling" and despite the gains that we have made "the future doesn't necessarily look positive".
Zahidi warned that automation is having a profoundly negative effect on women in the workplace. "it actually seems like the gender gap might widen in the future and that's because of technological change and what it's doing to labour markets" Zahidi said.
The report suggests that growing areas of employment such as tech and engineering are seeing women edged out of the workforce as they are major focal points for innovation utilising automation.
Automation means fewer jobs, and fewer jobs mean fewer women according to the report which shows that women working in Artificial Intelligence are less likely than men to be in high-profile positions.