Poland reinstates retired judges after EU court ruling
Comments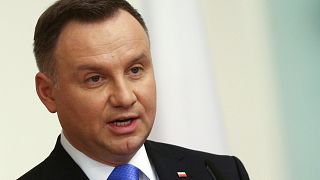 -
The Polish government has reinstated a group of Supreme Court judges who had previously been forced into early retirement. The government made the controversial decision to lower the retirement age for judges earlier this year – a move that led to accusations that the ruling Law and Justice (PiS) party was looking to take control of the country's judiciary.
The decision comes on the heels of a European Court of Justice ruling that said Poland must suspend the law immediately, and send several top judges back to the bench.
The issue was at the centre of an extended dispute between Brussels and Warsaw. The EU has contended that Poland's judiciary changes violate the Union's values, and has moved to curtail the Poland's voting rights in the bloc. PiS argues that the push to remove judges was part of an effort to streamline the courts and eradicate any remnants of the country's Communist past.
When the country's nationalist government passed the law in July, it was met with public opposition that culminated in protests at the Supreme Court in Warsaw. Now, the historically Eurosceptic PiS may be looking to improve its image amongst pro-EU voters.
"The recent regional elections showed that in big cities and towns which are more pro-European, PiS was not successful," Marek Tatała, Vice President of the Polish think tank, the Civil Development Forum told Good Morning Europe. "We have the upcoming European Parliament elections, so this might be an attempt to show a more pro-European attitude by the ruling party in Poland."
But retirement age revisions aren't the only controversial judiciary change made by PiS since coming to power in 2015. The party has also captured the body responsible for appointing and promoting judges.
"There are other issues and problems with the rule of law in Poland," said Tatała. "The conflict with the EU is not over, and what is more important is the conflict between the ruling party and this part of the Polish population including lawyers, judges, and civil society organizations which claim that this was an attack on the rule of law, and isn't over."