Theresa May and Jean-Claude Juncker caught on camera in tense exchange
Comments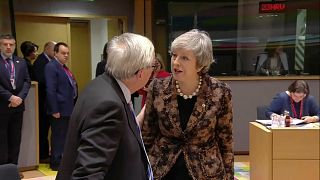 As day two of the Brexit summit gets underway, UK Prime Minister Theresa May and European Commission president Jean-Claude Juncker are caught on camera having what looks to be an intense exchange.
May later addressed the exchange at the press conference, saying the conversation was "robust".
Lip readers and Twitter users claimed May was bickering with Juncker as he had called her "nebulous".
She refuted this and said he was referring to "the general level of debate".
Juncker echoed May's explanation, saying: "I did not refer to her but to the overall debate in Britain."
He also said his use of the term came from a misunderstanding, as English is not his first language: "I didn't know this word (nebulous) existed in English."
"I can't see where the British Parliament is heading at and that's why I was saying this is 'nebulous', 'foggy' in English," he added.
He explained that relations between him and May were good: "In the course of the morning after having checked what I said last night, she was kissing me."
Having survived a vote of confidence in the UK Parliament earlier this week, May faces stern discussions as EU leaders insist her Brexit deal is "not open for renegotiation".
Do you like what Euronews does? Click to sign up for our WhatsApp newsletter, a twice-daily selection of the top stories from around Europe.