Raw Politics: Is there room to renegotiate the Brexit deal?
Comments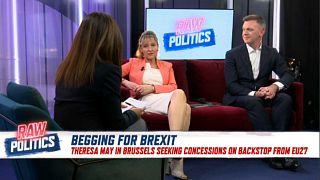 EU leaders have expressed there's no renegotiation on the Brexit deal but there's room for renegotiation, clarification. What does this all mean?
Our panelists Martina Anderson, an Irish MEP, and Brian Maguire with Euractiv, weigh in.
"Theresa May wants something that she thinks she can give to the DUP and her radical wing within her party, the ERG … anything that's not legally binding, they won't accept," said Maguire.
He adds: "Anything she gets is nice warm words to be able to bring this back to Westminister."
Anderson said she wouldn't be surprised if Article 50 would be revoked and then invoked.
"No one knows the British and the British establishment better than us. We've been in negotiations with them far longer than what we care to remember and we know their tactics and we try to explain this to [Brexit negotiator] Michel Barnier.
"They get you to the negotiation table, they get you to sign off on the agreement and as soon as the ink is dried, they leave the table and they negotiate downwards," she said.