Life slowly going back to normal in Strasbourg but recent events will leave a scar
Comments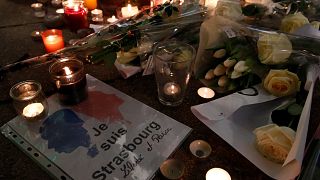 A heavy police presence remains, but markets are reopening and life is slowly getting back to normal in Strasbourg after Tuesday night's shooting which killed three.
French police shot dead Cherif Chekatt, in the Neudorf area of the city late last night, after he opened fire on them following a localised manhunt.
The 29-year-old had been on the run for 48 hours.
French Interior Minister Christophe Castaner said on Thursday that three police officers had stumbled across a man they believed to be Chekatt on rue du Lazaret, in the neighbourhood of Neudorf in Strasbourg.
At around 9 pm, police called out to stop him and that is when he began shooting. Police returned fire and Chekatt was shot and "neutralised."
The Strasbourg Christmas market was closed after the shooting but it has reopened today.
"These events of the past few days have had a massive impact on the city of Strasbourg. It will leave a lasting scar and memories that people will probably never forget," Euronews Correspondent Damon Embling told Good Morning Europe.