In pictures: Nasa Juno Cam shows storms over Great Red Spot
Comments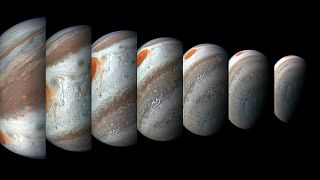 -
NASA's Juno mission to Jupiter has revealed new images of cyclones at the giant planet's poles, as it reaches its halfway point.
Juno orbits Jupiter every 53 days, performing a data-gathering dive from pole to pole and travelling at speeds of up to 128,802 miles per hour (207,287 kph).
Launched on August 5, 2011, from Cape Canaveral, Florida, Juno entered orbit around Jupiter on July 4, 2016. Its instruments probe beneath the planet's cloud cover and study Jupiter's auroras, taking measurements to learn more about the planet's interior structure, atmosphere and magnetosphere.
While the JunoCam imager was conceived purely as a way to share the excitement of exploring Jupiter with the public, it has become much more than that – providing NASA scientists with images that help them understand how the biggest planet in our Solar System was formed.
Candy Hansen, Juno co-investigator, said: "Our time-lapse sequences of images over the poles allow us to study the dynamics of Jupiter's unique circumpolar cyclones and to image high-altitude hazes. We are also using JunoCam to study the structure of the Great Red Spot and its interaction with its surroundings."