Strasbourg shooting: what do we know about the victims?
Comments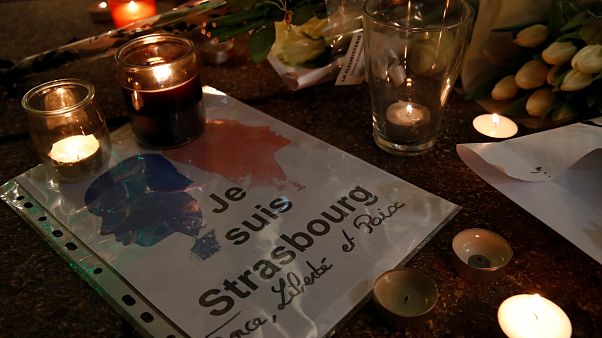 Three people were killed after a gunman opened fire on a street near Strasbourg's Christmas market on Tuesday.
As many as 13 people were injured in the attack, five seriously.
What do we know about the victims?
Kamal Naghchband
Kamal Naghchband was a 45-year-old mechanic who has three children, his brother, Mokhtar Naghchband, told Euronews.
He was left in a coma and pronounced dead on Thursday morning, Mokhtar added.
Kamal was a Muslim, originally from Kabul, Afghanistan, had lived in France for 18 years and had French nationality.
Anupong Suebsamarn
Thailand's embassy in Paris confirmed in an online statement that a national from the country died in the shooting.
A Thai Foreign Ministry spokeswoman said the Paris embassy confirmed Anupong Suebsamarn, 45, was the victim.
He travelled to France for a holiday with his wife, according to the Associated Press.
"We strongly condemn the killings, which have resulted in the death of many innocent civilians," the embassy said in the statement, extending their condolences to the victims' families.
Antonio Megalizzi
The Italian radio journalist was among the people shot in Tuesday's terrorist attack in Strasbourg and is in a coma and cannot be operated on, Danilo Moresco, the father of his girlfriend, Luana. told ANSA on Wednesday.
"From what I understand, Antonio is in a coma and it is not possible to operate because of the position of the bullet, which reached the column at the base of the skull, near to the spine," he said.
Moresco said he got this information from the family, who are at the hospital with Megalizzi.
A journalist with the Europhonica radio consortium, he arrived in Strasbourg on Sunday to follow a session of the European Parliament.
Europhonica said it cannot confirm any news about his health in a Facebook post.
Jeanne Lorho
Christelle Lorho, the manager of a local cheese shop, said on Facebook that her daughter Jeanne had been shot in the arm.
Currently studying at a business school, Jeanne was born in Moyenmoutier in the Vosges department of France, around 80 kilometres from Strasbourg.
Her daughter was operated on and had "woken up" from surgery, she added.
"We are lucky and happy she is still with us," Lorho wrote.
A polish national
Poland's foreign minister confirmed on Twitter that among the victims of the Strasbourg attack was a Polish citizen, but did not name the person or give details about their injuries.