Suspected Strasbourg shooter Chérif Chekatt killed by police
Comments
By Philip Pangalos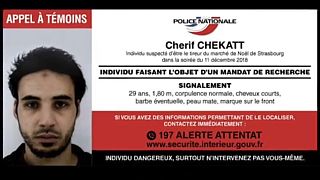 Bystanders saluted police agents in the neighbourhood of Neudorf in Strasbourg on Thursday after officers earlier shot dead the man suspected of the Christmas market shooting in Strasbourg on Tuesday evening, in an attack in which three people were killed and a dozen more were injured.
The suspect was killed following a big police operation and died following a shootout on Thursday evening in a back street of the city.
29-year-old Chérif Chekatt was known to the authorities and had a string of criminal convictions. Authorities think the suspect acted alone.
On Tuesday, the gunman shouted "Allahu Akbar" as he opened fire and is said to have been radicalised while he was in prison.
Chekatt was born in Strasbourg and was known to police. He had 27 convictions for crimes including robbery in France, Germany and Switzerland.
Police searched his apartment in Neudorf and found an array of ammunition, rifles, grenades and knives.
Amaq, the media arm of the so-called Islamic State group, described Chekatt as one of its "soldiers", without providing evidence.
Around 700 police officers in France and Germany were dispatched to look for Chekatt, who was injured during a gunfight with police on Tuesday.
French Interior Minister Christophe Castaner said on Thursday that three police officers had stumbled across a man they believed to be Chekatt on rue du Lazaret, in the neighbourhood of Neudorf in Strasbourg. At around 9 pm, police called out to stop him and that's when he began shooting. Police returned fire and Chekatt was shot and "neutralised."
"So far we have no reason to think there were any accomplices, but the investigation is going to be undertaken until we fully understand what happened, so that French people can feel safe. There was strong support from many countries like Germany and many others," said France's Interior Minister Christophe Castaner.
However, following the attack on Strasbourg Christmas market, locals felt anything but safe. Three people died in Tuesday's attack, while three others are still fighting for their lives.