Afghan-Muslim man in coma after Strasbourg attack has died, family says
Comments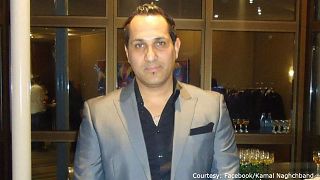 Copyright

Facebook/Kamal Naghchband
A Muslim man, originally from Kabul, Afghanistan, left in a coma after Tuesday's shooting in Strasbourg, has died, his brother told Euronews.
Kamal Naghchband was a 45-year-old mechanic who has three children, said his brother, Mokhtar Naghchband.
He lived in France for 18 years and had French nationality, he added.
"We are bereaved because our city of Strasbourg, an exemplary city in terms of living together, was hit hard by a murderous act," said Eyup Şahin, regional president of Strasbourg's Eyyûb Sultan Mosque, in a statement.
At around 20h CET on Tuesday a single gunman opened fire on a street near Strasbourg's famous Christmas market.
Two people died in the attack and another was declared brain dead, Paris prosecutor Remi Heitz said.
At least 12 people were wounded, six seriously.
The gunman, who is on the run, is on France's "fiche S" watchlist of individuals thought to pose a security risk to the country.
French Interior Minister Christophe Castaner announced that the country's "Vigipirate" security threat level would be raised in light of the attack.
Do you like what Euronews does? Click to sign up for our WhatsApp newsletter, a twice-daily selection of the top stories from around Europe.