Strasbourg attack: Cat images flood Twitter to protect police as they hunt suspect
Comments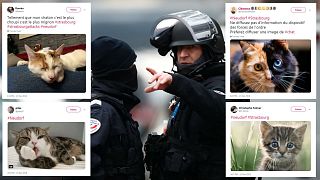 Cat pictures have flooded social media in an apparent bid to protect sensitive information about a police operation in Strasbourg.
The feline photos were added to Twitter using the hashtag #Neudorf.
That is the suburb of Strasbourg near where the suspect in Tuesday's deadly gun and knife attack was last seen.
Reports emerged on Thursday afternoon that police were carrying out an operation in Neudorf linked to the attack.
But Twitter users — concerned that video or pictures posted under #Neudorf could reveal sensitive police information to any suspects — flooded the hashtag with cat pictures.
Meanwhile this is a tweet from French police that calls for people to not post photos or live video of police activity on social media as it could put their operations at risk.