Polish PM survives vote of confidence ahead of EU summit
Comments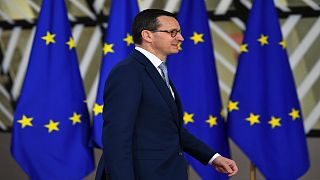 -
Poland's Prime Minister Mateusz Morawiecki has survived a vote of confidence in his PiS (Law and Justice) government.
Morawiecki called for the vote of confidence himself on Wednesday to ensure he had a mandate for reforms he hopes to push through, including higher welfare spending, ahead of Thursday's summit of European Union leaders.
The vote was held on Wednesday evening and Morawiecki's government won it easily, with a result of 231 to 181.
Since coming to power three years ago, PiS has grown increasingly isolated in the EU amid accusations at home and abroad of a tilt towards authoritarianism.
The party has seen its popularity ratings edge slightly down following a corruption scandal in the financial regulator.
Jakub Krupa, UK correspondent for The Polish Press Agency (PAP), suggested the move was a preemptive strike by Morawiecki, as opposition parties were planning for a no confidence vote on Friday.
Morawiecki, who took up the leadership position a year ago, tweeted a message of thanks after the vote, saying:
"I sincerely thank you for your trust not only in me, but above all for the entire Council of Ministers, our entire white and red team. I am glad that Members appreciated everything that we have managed to do for Poland and Poles as Law and Justice."