COP24: Polish border authorities deny entry to UN climate change summit participants
Comments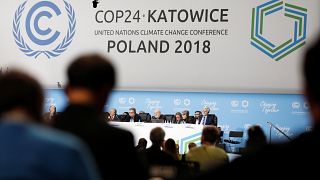 -
Polish border guards denied entry to a number of participants traveling to the country for the United Nations climate change summit, COP24.
One participant, Zanna Vanrenterghem, a Belgian national, was heading to the event in Katowice by train, Belgian Ministry of Foreign Affairs spokesperson Karl Lagatie told Euronews.
Border security then denied her entry. The woman is an employee of CAN Europe and co-organised a climate change march in Brussels last week.
Lagatie said border guards told Vanrenterghem she could not proceed further due to "security reasons" but did not go into further detail.
A group of other participants from non-profit-organisations said in statements on Friday that 13 people were denied entry into Poland.
Wendel Trio, Director of Climate Action Network (CAN) Europe said:
"It is appalling and a disgrace that one of our collaborators who successfully co-organised a March of 65.000 people in Brussels last week has been denied entry into Poland."
Poland brought about border controls from November 22 to December 16 to enable security checks for the international summit.
Spokesperson for COP24, Magda Smokowska told Euronews that anyone wishing to enter Poland must comply with conditions set out in the Schengen Border Code and Polish law.
"They cannot be registered in the database as a person for whom an alert has been issued for the purposes of refusing entry to the Polish territory because of a threat to the public order," Smokowska said.
She added that border authorities said the participants were detained because they are included in a Schengen Information System. A Polish presidency spokesperson added that some activists were denied entry as they did not meet requirements or were on a list preventing them from entering the border-controlled Schengen area.
UN climate chief Patricia Espinosa said her office was in the process of clarifying information about the entry denials.
"We are hopeful and grateful for efforts by the Polish authorities to address this situation and ensure we can continue into the next week in the most inclusive atmosphere," Espinosa said.
A spokesperson for the Polish Border Guard said 161 people had been denied entry to Poland on Friday for many reasons such as lack of correct documents and being on security lists.
Belgian Ministry of Foreign Affairs spokesperson Karl Lagatie said that after assistance from the Belgian ambassador and the embassy, authorities granted Vanrenterghem access and she was able to travel to the summit.
COP24 is taking place between December 2 and December 14. It's the 24th talk on the United Nations Framework Convention on Climate Change (UNFCCC).
Ministers and delegates from UN member states meet to discuss the climate and take decisions on the implementation of UN measures.