'Gilets jaunes': will Macron's concessions be enough to stop the protests?
Comments
By Alice Tidey & AFP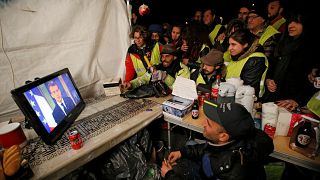 French President Emmanuel Macron unveiled a series of measures in a bid to quell the anger of "gilets jaunes" ("yellow vest") protesters.
The concessions included a €100 monthly rise in the minimum wage, the abolition of taxes on overtime pay in 2019, a promise that end-of-year bonuses will be tax-free and the scrapping of a new tax on pensioners earning less than €2,000 a month.
But will the president's climbdown be enough to stop further protests and violence this weekend?
"Yellow vest" protesters
Taking the pulse of the citizen movement is fairly difficult as it is not affiliated to any political party or union and it has no leadership structure.
One of the movement's leading figues, Jacline Mouraud, has called for a "truce" because "there's progress, an open door," according to France Info.
But Benjamin Cauchy, one of the public faces of the movement, told France 2 that Macron presented "half measures".
"We can feel that Macron has got a lot more to give," he added, suggesting the protest would continue.
On Facebook, where the protests are organised, many groups are calling for an "Acte 5" — a fifth day of national action on Saturday.
Views on Macron's speech also varied widely.
"What else could you possibly want?," a user called Paul Delatuile, wrote in the "Acte 5: Macron Demission (Resignation)" page.
Another, Julier Quint, also wondered: "Is it me or is the movement disintegrating because of [what] the president said yesterday?"
However, Brian Dfor, described the speech as "hot air" and called on other protesters "to not give up".
Politicians
Jean-Luc Melenchon, leader of the far-left La France Insoumise party, said Macron's measures fail to take into account any "of the popular demands for more participatory democracy".
"I believe that the fifth act of the citizen revolution in our country next Saturday will be a moment of great mobilisation," he forecasted.
On the other end of the political spectrum, at the far-right National Rally, Macron's speech also failed to convince.
"I don't think that Emmanuel Macron's announcements yesterday fundamentally change things," one of the party's MEPs, Nicolas Bay, told France Info radio on Tuesday.
He added that "in substance, it's still very vague, and we're far from sincerity".
Experts
According to Oliver Davis, professor of French politics at the University of Warwick, UK, further protests are to be expected on Saturday in Paris and across the country.
"A key question is whether his speech will have changed the way the movement is viewed by the wider population," Davis told Euronews.
The movement is supported by more than 70% of French people, according to a survey.
"If public support of the movement doesn't ebb away then I would expect to see further concessions, probably on the ISF (wealth tax)," he added.
However, if support decreases on the back of the new measures, Davis forecasted, "we will likely begin to see the protests dissipate and more vigorous security measures employed against them".
For Antonio Barroso, senior vice president at political consultancy Teneo Intelligence, "Macron's hope is probably that the combination of the announced measures plus the upcoming holiday break will calm things down a bit".
"I think Macron is likely to stick to his strategy of detente while avoiding to take any big political decisions such as a reshuffle or early legislative elections," Barroso told Euronews.
"However, if the protests continue, he might have to consider taking bolder moves such as replacing his prime minister," he added.
Pierre Bocquillon, lecturer in EU Politics and Policy at the Universiy of East Anglia, UK, told Euronews the measures will probably be perceived as "too little too late" so it remains to be seen whether they will be enough.
"At the same time the movement is probably starting to run out of steam as it can be exhausting to protest especially without the logistical support of Unions and organisations (given the grassroot nature of the movement).
"One question is: how will the yellow vest movement evolve? Will it turn into an electoral group for the European elections? Will it feed into electoral competition? There is a distrust of traditional parties and Unions, but it will have to find an institutional form to last," Bocquillon said.
Media
For Laurent Joffin at the left-wing Liberation newspaper, Macron is "betting on a fall in support for the 'yellow vest' protesters. But the movement, in all probability, it won't stop overnight."
Laurent Bodin made a similar point in la Voix du Nord: "The measures unveiled last night, with this new mea culpa on top of his comments that "may have hurt" will not bring calm overnight, nor will it make the bright yellow disappear from roadsides."
At the Dernieres Nouvelles d'Alsace Pascal Coquis wrote that "the first reactions from yellow vests showed more than scepticism and distrust towards the head of state."
But for Leela Jacinto, International Affairs Editor at France 24, Macron's "contrite" speech could spell a change in the protest.
"If gilets jaunes protests continue will they have any credibility with the French people — besides the Le Pen, Melenchon crowd?" she asked.