French students join protest movement
Comments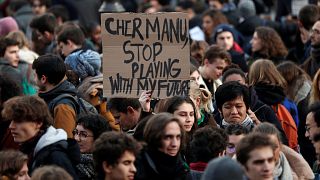 -
Students marched in the streets of Paris on Tuesday (December 11) protesting against the French government's reform plans, despite French President Emmanuel Macron's first national address following France's worst protests for years.
Around the country some 170 high schools took part in what they're calling "Black Tuesday" protests.
Euronews correspondent Anelise Borges spoke to some of the students demonstrating in the French capital. One young woman said that they'd been motivated by the so-called Yellow Vest movement that's in its fifth week of anti-government protests:
"We said to ourselves that there was anger across France, there's a massive mobilization across the country, so why not do it then? That's why the student union called on all French lycees to strike – so that makes for an even bigger movement of anger."
Exam reform
The reason for the students' discontent: a planned reform of the end-of-school exam, known as the baccalaureate, which aims to boost the country's international ranking. If passed, the number of exams would be significantly reduced and the diploma reorganised so that French students have two choices of subjects to specialise in.
Students are demanding the repeal of the reform, passed last year, which introduces stricter selection criteria for university. They say the change, taken up by Macron's education minister Jean-Michel Blanquer, will magnify inequality between rich schools and poorer, peripheral ones. They also oppose plans for a national civic service for French youths, due to be rolled out in 2026.
"Pitiful" response
Mr Macron on Monday (December 10) announced wage rises for the poorest workers and tax cuts for pensioners in further concessions meant to defuse weeks of often violent protests that have challenged his authority.
But the president refused to reinstate a wealth tax or back down on his reform agenda, which he said would proceed in 2019 with overhauls of pensions, unemployment benefits and public expenditures.
His response came 48 hours after protesters fought street battles with riot police, torching cars and looting shops - the fourth weekend of protests for the "yellow vest" movement which started as a revolt against high fuel costs.
One student protester in Paris told Euronews the measures didn't address students' concerns:
"[The speech was ] pitiful -- pitiful because what Macron did yesterday, all I heard was 'blah blah blah, European elections.' His intervention yesterday didn't talk about young people or students – the vague idea of raising the minimum wage seems sort of shady. So concretely, he should have tried to appeal for calm, but it wouldn't have any impact – in fact you can see, the appeal for calm hasn't worked."