'At the end I ask myself why I work just to survive' man who had 'yellow vest' idea tells Euronews
Comments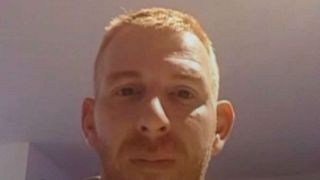 Amidst another weekend of violent unrest in cities across France, Euronews interviewed Ghislain Coutard — the man behind the yellow vest idea.
A month before the first roadblocks, Coutard responded to a call to action on Facebook by posting his own video, which would quickly go viral. In it, Coutard suggests people place a yellow safety vest on their car's dashboard as a symbol of solidarity, earning the movement its worldwide famous name.
Coutard — who did not go to Paris this weekend — spoke to Euronews about why he put up the video, why he joined the movement, and what it would take for the protests to stop.
Euronews: Tell me about the video you posted online
Ghislain Coutard: I did this video to complain like everyone else and I got the idea to use the yellow vest because I use every day at work.
When I placed it on my car's dashboard I realised how visible it was. It's an idea that came all alone. I was very surprised at how many views my video got and how fast I got them.
Why did you decide to join the protests in the first place?
Because I see everything going up (in price) without any real reason. I don't know where the money goes so it got me angry. Life is becoming more and more expensive.
We work and we do extra hours but we're taxed for everything so at the end I ask myself why I work just to survive. We only have one life and to have to give it all away… it's not possible.
What does a day's work look like for you?
I leave the house early, I drive between 200 and 500 kilometres per day and I work in repairing machines in factories. So I just sleep, work, sleep, work and pay, pay, and pay.
The weekend I'm tired because the week was tough. So either we're tired or we don't have any money because life is becoming more and more expensive
Do you see that same pattern around you?
Yes, when I did the video it was especially for close friends of mine don't have the same salary as I do and really have it tough and for them, it's really becoming harder to live.
If any sort of problem comes along, we can't deal with it because we can't save any money.
What does the government need to do?
They need to be less arrogant because they don't have the same lives we do. They don't even know what the minimum wage is, they don't know how much diesel currently costs, they don't have to pay for diesel to go to work, they don't pay for restaurants. They're in another world, they can't compare.
Unless we have someone who knows that life is really like, we'll never get through this. Somebody needs to know what it is not to have enough money in their bank accounts once in their life.
What needs to change for the movement to stop?
That's the question everyone's asking. It's true everyone's yelling and protesting but on paper, we don't have anything concrete.
The minimum would be to go into full reverse gear, to increase the minimum wage a little bit, to give purchasing power.
If they (government) decrease their salaries to show the example […] you don't need to make €15,000 a month to live when everything's paid for.
Is this a new anger?
It's been like this for years. He's (Macron) paying for how arrogant he is. That plus the way he speaks to French people. He doesn't care about the people, he's in his world. He needs to pay for all of that. He's the most arrogant of all presidents. I don't know why he does this, he should realise how he talks to French people. He thinks he's superior to everyone.
For those abroad who haven't been following from the beginning, what would you like them to understand about the current lives of French people and the yellow vest movement?
Not to confuse the gilets jaunes with the people breaking things and being violent, the movement is really specific and started from a very good reason. It's not jealousy against the rich like some say.
The government does everything so that rich stay rich and the poor stay poor. Everyone needs to know that the rich do everything to stay rich and try to divide. If everyone was richer everyone would be happier