France's President Emmanuel Macron addresses nation after weeks of street violence
Comments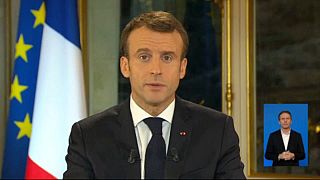 It had much of France enthralled. The long-silent President Emmanuel Macron addressing the nation following weeks of street violence.
The so-called "yellow vest" protesters wanted to see how he would respond to their anger over tax hikes and the rising cost of living.
Macron struck a humble tone as he sought to restore calm.
"I take my part in this responsibility. I may have given you the feeling that it was not my concern, that I had other priorities," President Macron told the nation in a televised address.
"I also know that I hurt some of you with my statements. I want to be very clear with you tonight: If I have fought to shake up the political system in place, the habits, the hypocrisies, it is precisely because I believe more than anything in our country and because I love it," he added.
President Macron promised a rise in the minimum wage, the cancelling of a planned tax increase for low income pensioners and the abolition of an overtime tax.
But for some of those watching the president, the concessions were not enough.
The concessions include a €100 monthly rise in the minimum wage, the abolition of taxes on overtime pay in 2019, a promise that end-of-year bonuses will be tax-free and the scrapping of a new tax on pensioners earning less than €2,000 a month.
Opposition leader Jean-Luc Mélenchon said throwing money at the problem was not a solution.
"Today indignation of a very large number of people who are against inequality and especially against the fact that some have everything and other nothing. Macron thought that a distribution of money could calm the citizen insurrection that has broken out," he said.
It's unclear whether Macron has appeased the moderates among the protesters. He'll have to wait until the weekend to see if the barricades return to the Champs-Élysées.