Violence goes down at Saturday's gilets jaunes protests: Interior Minister Christophe Castaner
Comments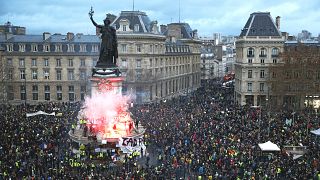 Copyright

REUTERS/Stephane Mahe
Plumes of smoke filled French cities as riot police faced off with gilets jaunes (yellow vests) protesters in the fourth weekend of unrest.
Police used tear gas, water cannons, and horses to tame protesters in the streets of Paris but encountered less violence than last weeks' protests.
Officials estimated that 125,000 anti-government protesters took to the streets all over France, with clashes between protesters and police also taking place in Bordeaux, Lyon, and Toulouse.
But security measures this time around were far greater with 89,000 security forces deployed throughout the country — 8,000 of those in Paris.
Interior Minister Christophe Castaner said that more than 1700 people had been arrested at the end of the day. 
"The escalation of violence has been stopped," he told a press conference. "It's been contained but remains totally unacceptable". 
Parisian health authorities said that 179 had been admitted to the hospital, mostly with minor injuries. 
A protest movement that began over fuel prices has developed into an expression of anger over living standards and the policies of President Emmanuel Macron.
Government response?
"We now have to rebuild national unity through dialogue," said Prime Minister Edouard Philippe. "The President will make a speech and it'll be his job to propose measures that will sustain that dialogue and which I hope will allow the whole nation to come together to face the challenges we already have and will continue to have in the coming years."
Three months and a half of public consultation will kick start in France next Saturday. The government said it is committed to coming up with "fair and effective measures" for everyone.  
Macron was forced to make the first major U-turn in his presidency by abandoning the fuel tax hikes.
But despite that, the gilets jaunes continue to make more demands such as lowering taxes, a higher minimum wage, better retirement benefits, and the president's resignation.
Gilets jaunes protests spread to neighbouring countries
The gilets jaunes movement has also spread to neighbouring countries such as Belgium where around 400 people were arrested on Saturday at a protest in Brussels. Demonstrations also took place in some Dutch towns. 
The gilets jaunes movement also reached American shores, attracting the attention of US President Donald Trump who suggested the Paris agreement was responsible for the protests.