'Yellow vests': French minister tells Trump to stop meddling in country's politics
Comments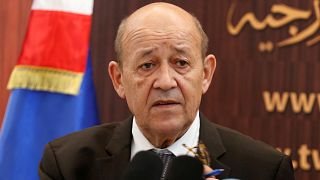 -
France's Foreign Minister Jean-Yves Le Drian said Donald Trump should not meddle in French politics after the US president criticised the nation in two tweets following protests in Paris.
Demonstrators, many dressed in yellow vests, faced riot police in Paris and cities across France on Saturday, throwing stones, burning cars and destroying urban furniture and shop windows in a fourth weekend of unrest.
"The Paris Agreement isn't working out so well for Paris. Protests and riots all over France," Trump wrote on his Twitter account on Saturday.
"People do not want to pay large sums of money, much to third world countries (that are questionably run), in order to maybe protect the environment. Chanting "We Want Trump!" Love France," Trump posted.
Le Drian said that the yellow vest protestors were not chanting in English and that images shared in the United States depicting people chanting "we want Trump" were filmed when the leader visited London months ago.
In a separate tweet, Trump also said: "Very sad day & night in Paris. Maybe it's time to end the ridiculous and extremely expensive Paris Agreement and return money back to the people in the form of lower taxes? The U.S. was way ahead of the curve on that and the only major country where emissions went down last year!"
The French Foreign Minister added:
"I say to Donald Trump, and the President of the Republic tells him too: we do not take part in American debates, let us live our life in our country."