Brexit boom time for UK warehousing businesses
Comments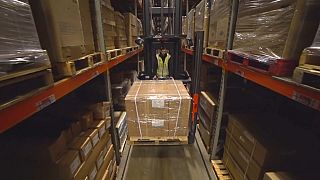 A logistics company 65 kilometres outside London has been forced to turn away new customers.
Storage space is too tight amid a surge in demand from businesses stockpiling goods – those fearing a no-deal Brexit.
"They are mentioning the Brexit word when they call," says Jayne Masters, Sales Director of Miniclipper Logistics. " They are concerned about inbound delays and they're supplying typically high street stores, they could be supplying straight into production lines in the food industry.
"Food ingredients are very time sensitive. So, companies are approaching us and asking for potentially short-term extra storage. It could be just a few hundred pallets, but it can be thousands of pallets and we don't have empty space that can absorb that kind of extra capacity."
Current trade between the UK and EU is massive - exports and imports totalling more than 600 billion pounds last year alone. Businesses fear that a disorderly crash out of the EU will cause chaos – more border checks, ports blocked and long traffic jams, severely disrupting a well-oiled supply chain.
Storage had already been expanded here – a new upper floor and a temporary warehouse added.
But, even with that, it's not enough. These are bumper times for the storage industry in Britain.
Cashing in on all the turmoil around Brexit.
"We said from day one that whatever the outcome of Brexit," whether Peter Ward, CEO of the, UK Warehousing Association. "It's deal, no deal, hard, soft, whatever, in the overall sense this will be good news for the warehousing sector because there's inevitably going to be some sort of interruption in the supply chain."
"It's not scaremongering I think, it's just a question of separating out a little bit, if I dare say, the media frenzy from the reality. But, of course, businesses are preparing for that day one no deal worst case scenario. So, there is an upsurge in demand."
With so many goods going back and forth between Britain and the EU, there's lots at stake. The government says it's been working closely with businesses to prepare for whatever happens with Brexit. The question is… will it be enough to calm the stormy seas forecast ahead?