Dire warnings of 'no-deal' Brexit from UK council
Comments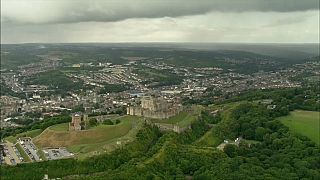 British Prime Minister Theresa May is meeting EU leaders today, after she has decided to postpone a crucial parliamentary vote on her Brexit deal with the European Union, which had been due to take place today.
European Council President, Donald Tusk said that "time was running out" and EU leaders will discuss their "preparedness for a no-deal scenario" at a summit this week.
One region in the UK is also preparing for a no-deal scenario.
Kent, in southeast England, is home to critical cross-Channel trade routes, including Dover port, where almost 180 kilometres of freight traffic passes through every day.
Paul Carter, the local government leader – a Conservative politician – has warned that chaos at Kent's ports would cost the national economy £1.75 billion a week.
"In 2015, we had two weeks of massive disruption, when the border controls broke down in Calais and there were asylum seekers running down the railway tracks and causing chaos at both the French end and in both the port of Dover and Folkestone," Paul Carter, leader of Kent County Council said.
"That gave chaos to the national economy, chaos to the road network across Kent. We want to try and plan for eventualities that may occur not just for Brexit, but disruption in the ports in the future."
Kent County Council has also published a report detailing Kent's no-deal contingency plans.
"This 17-page report – detailing Kent's no-deal contingency plans – paints a pretty grim picture of the potential impact on local services," Euronews correspondent Damon Embling said.
"Up to 10,000 trucks are forecast to get stuck here on a routine basis. The resulting traffic gridlock potentially paralysing everything from school exams to rubbish collection."
However, people in Kent are clear on what they now want to see happen.
"I voted for Brexit. I don't want another referendum, that wouldn't be fair," Maureen Johnson, Kent resident said. "They should get on and do what they're supposed to do. Get us out… stop the immigrants from coming in because we're just so overcrowded now, it's unbelievable."
"I voted remain," Andrew Aymes, Kent resident said. "As a country, we've been wanting somebody to make a decision ever since the vote and it's just been spinning out of control and economically I don't think the country can move forward until a decision is made. And we've already voted to leave."