SOS: last call for the European socialist party
Comments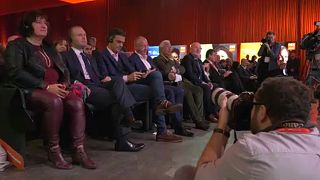 While Paris burns under the yellow vests protests, asking for social justice, the European socialist leaders gather in Lisbon for the annual Congress. They smile, hug, and carefully avoid talking to the press.
Nobody mentioned what is happening in the French capital, the only "mea culpa" came from Spanish Prime Minister Pedro Sanchez. In his speech, he said that in Europe not everything that has been achieved is good. The social contract has been broken and it must be rewritten by all European progressive forces.
The host, the Portuguese Prime Minister Antonio Costa, accused the neo-liberal orthodoxy led to recession and insisted on the need of fair tax system.
"The fiscal system is and keeps on being the instrument to redistribute the richness, to finance the social welfare, with good schools and good hospitals, good social support, and this is social Europe", he said.
This is a different recipe from the one proposed by the French president. That's the comment of the leader of the socialists in the European Parliament, Udo Bullman
"He cut the tax for the super-rich and put an additional burden on ordinary people, this is the basic misunderstanding of the challenge today and we social democrats can give different answers".
The anger of those who feel inequalities is justifiable, says Portuguese MEP Maria Joao Rodriguez, and she proposed to follow the Portuguese solution.
"We started by saying to people that for us the priority is that wages are not cut and pensions are not cut so that you can be confident that your income will be protected and like that we could sustain the pressure in the country".
The congress ended with the official presentation the socialist candidate in the next European elections, Frans Timmermans. He is considered the most liberal among the socialist and his party in the Netherlands has 6% of votes. In the past months, Euronews requested several times to get an interview with him, but he seemed more interested in appearing more on the Dutch press.
With this background is unclear how he hopes he to get the presidency of the European Commission. When asked to comment on the events in Paris he sent his message to protesters in Paris: "Violence is never the way, the dialogue is the way forward and we offer dialogue to make sure that we address the issues that people are worried about".
These elections are the last call for Socialist party to dare more and play all the cards available to calm the anger across Europe.