Gilets jaunes protests to have 'important impact' on French economy: Bruno Le Maire
Comments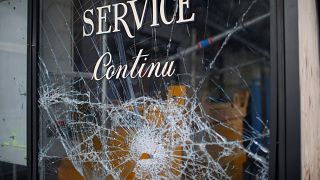 The gilets jaunes (yellow vests) protests will have an "important impact" on the French economy, French finance minister Bruno Le Maire told Euronews on Sunday.
"I'm not in a situation to make a clear assessment of the level of impact but I can tell you it will be an important one on the attractiveness of France," he told Euronews' Emmanuelle Saliba as he walked around vandalised shops and visited small business owners in Paris.
On Saturday, protesters wrecked restaurants and shops in some of Paris' trendiest neighbourhoods.
Retailers lost around one billion euros in revenue since the protests started in mid-November and shares in tourism-related activities dropped to their worst week in months, said Reuters.
Le Maire added that it was important that the government support small and medium business owners (SMEs) that were hit by the protests.
The movement started online as a protest against rising fuel prices but has spread to include people angry about higher living costs.
Demonstrators have held violent protests in some of Paris' fanciest neighbourhoods to denounce high living costs and French President Emmanuel Macron's liberal economic reforms.
Some protesters have sought to distance themselves from the radical and violent fringe elements of the movement.
Le Maire said there wouldn't be a way out of this crisis without "peace and dialogue"
"We call once again for all the citizens to come back to dialogue and to peace because there won't be any long-term solution to this crisis without peace, stability and dialogue," he said.
But added that public order was "non-negotiable".
"There can't be dialogue or reflections on the situation to come if the public order is not reestablished."