'Yellow Vests': 1,400 arrests and 126 injuries in France as clashes continue
Comments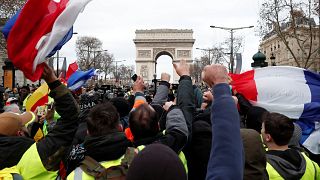 Nearly 1,400 demonstrators were arrested in France on Saturday as tensions rose and police fired tear gas, French authorities said.
More than 974 were placed in police custody as the 'yellow vest' protests turned violent for the second week running.
French Interior Minister Christophe Castaner said over 125,000 people joined the protest throughout France with 10,000 in the capital.
He added the protest in Paris is "under control" but called it "totally unacceptable."
Paris hospitals reported 126 admissions for injuries related to the protest. Nearly 40% of those injured had left emergency services on Saturday night, the Assistance publique – Hôpitaux de Paris (AP-HP) said.
Castaner said among the inured were 17 security officers and warned arrests could increase through the night as clashes continue in Paris and other parts of France.
French authorities deployed 89,000 police officers and security. Forces used pressure water cannons, tear gas and armoured vehicles.
The first clashes occurred on Saturday morning with charges and tear gas shots fired on the Paris avenue Champs Elysees - were most of the 'yellow vests' concentrated.
Radical demonstrators burnt cars and destroyed urban fixtures and shop windows in the adjacent areas of Marceau Avenue and around a nearby park.
Many shops shut windows and doors in preparation for the protests and monuments and museums in Paris such as the Eiffel Tower and the Louvre were closed off.
Clashes around France
In Toulouse, conflict erupted between protesters and police, where thousands of demonstrators participated in three marches which merged into a single procession that police tried to force out of the city centre, AFP reported.
Police said there were also altercations in Bordeaux, Marseille, Lyon and around 2,000 people marched in Nantes and faced police who used tear gas.
In Marseille, police confirmed 42 arrests as 2,000 yellow vests marched through the city to join a climate change demonstration, bringing the total to 10,000 people.
Firefighters in the city reported attending to 7 people, 5 of whom were taken to hospital, but none in a serious condition.
The yellow vests organised a series of blockades on roads throughout France, especially at some strategic points of the country's motorway network as well as two main entrances from Spain.
Police forces have been conducting searches of personal items, which have allowed to separate "radicalised individuals who steer up violence" from the rest, said a government tweet.
Read: 'Yellow Vests': What's driving the anger?
Euronews' Paris correspondent, Anelise Borges, reported from Champs Elysees as the protest unfolded.
The movement started in November over fuel tax hikes but they've become a wider reproach against Macron.
Euronews' Emmanuelle Saliba asked people why they were participating in the march.
Authorities say the demonstrations have been hijacked by violent people who go there to break things.
An Elysee official has said intelligence suggested that some protesters would come to the capital "to vandalise and to kill".
President Macron's response to the protests
The country waits for the reaction of President Emmanuel Macron, who is expected to address the nation early next week after a silence he mainted this week.
Macron was forced to make the first major U-turn in his presidency by abandoning the fuel tax hikes.
But despite that, the gilets jaunes continue to make more demands such as lowering taxes, a higher minimum wage, better retirement benefits, and the president's resignation.
US President Donald Trump comments on France yellow vest clashes
Trump said on Saturday that it may be time to do away with the Paris accord on climate change.
"Very sad day & night in Paris," the president posted on Twitter. "Maybe it's time to end the
ridiculous and extremely expensive Paris Agreement and return money back to the people in the form of lower taxes?"
We will be updating this story throughout the day.
Other articles about the gilets jaunes:
'Gilets jaunes' protester invites Euronews into her home to show her hardship
'Gilets jaunes': which other countries has the French protest movement spread to?
'Gilets jaunes': who are they and what do they want? | Euronews answers
Watch: France to suspend fuel tax hikes after 'gilets jaunes' protests