Gilets jaunes: What's driving the anger?
Comments
By Alice Tidey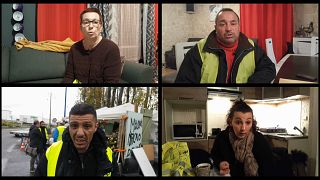 After more than three weeks of protest, the French government announced this week that it is abandoning plans to increase taxes on fuel.
But the 'Yellow Vest' movement shows no signs of appeasing with further protest expected across the country on Saturday.
To better understand what drives the anger against the goverment, Euronews met up with some of the men and women behind the movement.
'I'm fed up'
"We see the government taxing us all over and we get halfway through the month with panic and we go to the banks and nothing works for us," Isa, 50, told Euronews.
"We get no help at all because the further you fall, the less people help you," she added.
Benjamin, 25, who became a jobseeker last Friday, is angry at the government's decision to scrap a tax on wealth.
"I read an article this morning about the end of the tax on the super rich, now donations to charities have dropped by at least 50%.
"That means that rich people who gave to charity in order to cut their tax bill don't even give more to charity now that their taxes have dropped. It's a scandal, a scandal," he told Euronews.
Meanwhile Simon said he joined the movement because "I'm fed up with taxes, fed up with the money we have to spend shrinking and shrinking."
Determined to carry on putting pressure on the government, the 26-year-old called on others to join.
"Whether you are students, sixth formers, pensioners, workers, we all need to unite," he told Euronews.
Increased security
The government has announced that security would be stepped up across the country on Saturday when protesters take to the streets for the fourth day of national action.
Protests held last Saturday turned violent, particularly in Paris, where heavy clashes between police and demonstrators resulted in cars and buildings being torched, shops destroyed as well as tear gas and water cannons being deployed.
Although the citizen 'Yellow Vest' movement — called so because of the high visibility jackets French motorists have to carry in their cars — started over high fuel prices, it has since mutated into a crisis about spending power and inequalities.
Negotiations between the government and protesters have been made difficult by the fact that the movement is not affiliated to any political party or union and has no leadership structure.
But some of their demands now include a return of the tax on wealth, an increase of the minimum wage and higher taxes for multinationals.