Police arrest 400 'yellow vest' protestors in Brussels
Comments
By Ghadakpour Nima and Darin Graham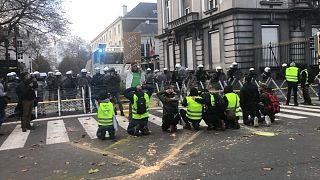 -
Belgian police and yellow-vested protestors clashed near government offices in Brussels as some demonstrators threw rocks and fireworks damaging shops and cars nearby.
This marks the second violence of its kind in the Belgium capital in eight days.
Police estimate around 1,000 protesters faced riot squads that used water cannons and tear gas in an attempt to deter them from European Union and government buildings.
A spokesperson from Brussel's police said about 400 were detained mainly for the possession of objects such as fireworks.
"A policeman was injured in the face. He was taken to hospital but his life is not in danger," Ilse Van De Keere, spokeswoman for Brussels police said. She added protesters had thrown rocks and stones.
"There has been a certain amount of damage," she said.
The movement in Brussels is said to be inspired by 'gilet juanes' or the yellow vest protests in France over the last few weeks.
Protestors in Belgium are airing complaints about the cost of living and demand the end of the country's centre-right coalition - six months ahead of a national election 2019.
Euronews reporter Ghadakpour Nima was in Brussels filming the protests.
Calm was restored after about five hours, Van De Keere said.
Watch footage from the scene in the player above.