New Zealand police find body believed to be British tourist Grace Millane
Comments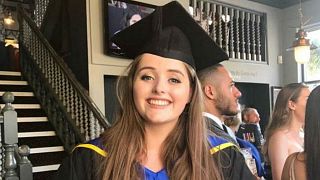 New Zealand police said on Sunday they believe to have found the body of British tourist Grace Millane.
On Saturday, they charged a 26-year-old man for the murder of the missing 22-year-old woman, officers said.
Millane, 22, was last seen in Auckland, New Zealand a week ago and officers launched an investigation into her disappearance on Wednesday.
Following that, police identified the man and spoke to him on Friday.
An Auckland City Police spokesperson said evidence gathered told officers she was "no longer alive."
"Sadly, the evidence we have gathered to this point of the enquiry has established that this is a homicide," said Detective Inspector Scott Beard.
Police found the body after searching a bush area in Auckland's Waitakere Ranges. The body has not yet been identified but it is believed to be that of Millane, said Beard.
The man charged will remain in custody until Monday when he will appear in court. Beard said the family were informed and are "devastated."
On Friday, the tourist's father David Millane said his daughter was on a year-long backpacking experience across the world.
Grace Millane, from Essex, graduated from university in September and had been in New Zealand for two weeks travelling alone.
Before her arrival in the country, Millane travelled through South America on a six-week group trip.
Officers established the man was with Millane on Saturday, December 1, and that they went to a number of locations before going to the City Life Hotel.
Beard said the search for Millane would continue.
"We still do not know where Grace is," he said. "We are determined to find her and return her to her family."
He added police identified a vehicle of interest and are making inquiries to find out where the vehicle has been.